3D image - 3D Google Earth
I suppose You know Google Earth - great satellite 3D maps and 3D buildings.
If You want to make real 3D image (anaglyph) of some interesting place from Google Earth, here is simple guide how to make it.
Make two shots of your place (for left and right eye)

Find interesting scenery
Select Image -> Save
Save as 3D-image-L.bmp
Shift the scene with the right arrow (click twice slightly)
Save as 3D-image-R.bmp



Make 3D image - anaglyph

Install and run freeware software - Anaglyph Maker
Open 3D-image-L.bmp (Load Left Image)
Open 3D-image-R.bmp (Load Right Image)
Make Color Anaglyph
Save as 3D-image-anaglyph.jpg



Look on your image with red-cyan glasses and enjoy real 3D effect!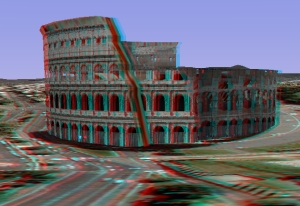 Note: For better quality use higher resolution and png format.